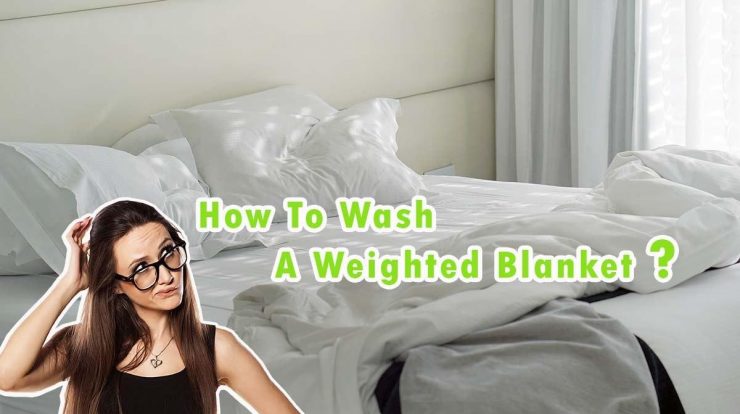 Wash Your Weighted Blanket:
Learning how to wash a weighted blanket is an important thing for the owner. Let's talk about it.
If you are looking for a brief and short answer, we will give up some tips on how to wash a weighted blanket. Even if there is a separate fabric on each side of the blanket and is filled with 100% glass beads, it is easy to take care.
"Wash gently in cold and warm water, do not bleach, dry on low".
A Weighted blanket is the biggest invention since sliced ​​bread? This is debatable, but what is not debatable is that they fall in love with everyone. These heavy blankets can reduce anxiety, lead to better sleep, and increase the comfort factor of any bed or couch. But, you may be wondering how to keep your favourite comfortable weight blanket clean and in great condition after everyday use?
Here is the basic instruction about how to clean and wash weighted blankets. Let's start!
How To Clean A Weighted Blanket?
Knowing how to wash a weighted blanket is an essential part of self-ownership. It can be tempting to just throw in a washing machine, but since this blanket is made of different materials than a standard throw – and includes glass beads or plastic poly pellets – that is not the best way to ensure that it lasts.
That being said, there is a way to wash your weight blanket at home without giving it premature wear and tear. There are many ways that you can wash and dry a weighted blanket that will allow you to ensure that you can have a clean weight blanket for years to come. Follow our step-by-step instructions below to find out more!
Also Read: Benefits Of Using Eco-Friendly Dry Cleaning Solvents
How To Wash A Weighted Blanket: Tag On Some Simple Steps
Always read the care tag associated with it before you learn to wash and dry the weighted blanket. It contains the information you will need to proceed in the cleaning process. It is also important to check how heavy your weighted blanket is. If it is 12 pounds (or 5.5 kg) or more, you will need to take your blanket to the Laundromat (or dry cleaner, but more later) so you can wash it in a machine that can handle large loads is.
If you can wash your weighted blanket or hand wash at home, here's what you need:
Mild laundry detergent
Stain preventer
Bathtub (optional)
Dish soap (optional)
Pre-Treatment
1. Prevent any stains with a mild stain remover and follow the instructions on the bottle.
2. If you have oil stains or other oil-based stains in your blanket, moisten the area with water and apply dish soap. Then, rub the area to ensure that dish soap can penetrate the blanket fibres.
3. If you do not see that any other stains are debris, then you can start washing your blanket.
Machine Wash
Depending on the fabric of the blanket and the materials used to weigh it, you can wash it in cold or warm water. It is best to check the care instructions so that you know how to proceed. Here are washing instructions for cotton-based blankets with poly-pellets.
Pour the laundry detergent into the drum or the detergent compartment of the machine.
Insert your covered weighted blanket.
Wash the weighted blanket on gentle using cold or warm water. If you are treating any stains then the temperature of the water will depend.
When the cycle completes, immediately remove the blanket from the washing machine.
Wash Hands
If your blanket is not suitable for machine-wash, it can be washed by hand. Here are some common cleaning instructions for this method.
Fill the bathtub in half with cold or lukewarm water.
Pour into the laundry detergent and stir the water to evenly distribute the detergent.
Dip your shed blanket in water, and start kneading it with your hands.
Dry the bathtub; leave your blanket in it.
Fill the bathtub with fresh water to rinse the blanket.
Remove the blanket with water and let your bathtub dry again.
Remove any overload water from the blanket.
Air Dry
You can also dry your weight blanket by Air dry. This method ensures that the filler is not melted, and can also provide the most drying. If your weighted blanket contains any kind of metal chain, chain, or other filler, then air drying is the safest method.
Air drying also reduces peeling on some fabrics, including wool. If you plan to do this, follow some tips. If you hang your weighted blanket to one side, all the fillers can fall to the bottom. Instead, lay or hang the blanket flat using clips from all corners for evenly weight distribution.
Also Read: Why Professional Curtain Cleaning Is Necessary?
How To Dry A Weighted Blanket
Again, how you dry clean or wash your heavy blanket eventually depends on whether it can withstand heat-wise, so check the care instructions on your blanket. Generally, however, you can either dry the blankets underweight or dry them on low heat or airflow settings.
If you opt for air to dry your blanket, hang it on a tall, well-ventilated structure, such as a banquet. Additionally, shake the blanket occasionally to ensure that the weight of your blanket continues to be evenly distributed.
Can You Clean A Weighted Blanket?
Yes! Some weight blankets can be cleaned, so the more effort it takes to keep them clean, the easier it can be to leave them at your favourite dry cleaners! Just make sure your weighted blanket has a care tag attached indicating it is safe for dry cleaning.
At Ducane Dry Cleaner, we take great care of not only your clothes but also your household linen. Our Richmond dry cleaners are open and look forward to guaranteeing 100% satisfaction for bedding, towels, and other everyday household items. We also provide premium dry cleaning and fold laundry services. You can take advantage of our convenient dry cleaning pick and delivery, so you don't have to leave your home.
So what are you waiting for? Dry your weighty blankets at Ducane Dry Cleaner today and clean it!