Did you just finish your cultural wedding? Looking for traditional wedding dress dry cleaners in London? Unlike other cities, London celebrates the weddings of more than 200 cultures every year. From traditional 1-day English wedding with white bridal dress and black groom suit to 3-days long Asian weddings with various bright colored traditional bridal wears like heavy work – Long Dresses, Sarees & Blouse Tops, Choli Lehenga, Chaniya Choli, Salwar Suits and Groom Wear like Sherwani and Kurta Pyjama, we see weddings of wide cultures and nationalities cherished and pleasured here.
And, why not? Wedding Ceremony is after all one of the precious occasions of our lives and who would not like to add a little luxury to such a glorious event. As magnificent as this moment would be, the style and look of the bride and groom plays a very important role for the awe-inspiring celebration which is why fashion designers and style icons from all over the world believe in exclusive, bespoke and fine embellishment work when it comes to designing wedding garments.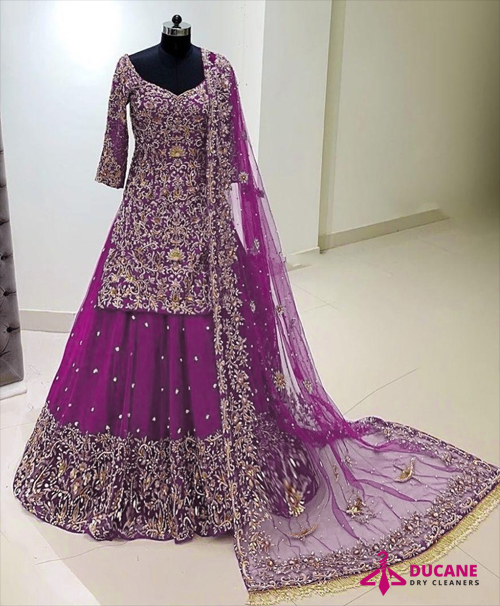 But, what after the wedding? Who would not like to spend a little extra lavishly on their looks for their Big Day? So, would you not then like to clean your stunning favorite wedding outfits after the wedding? Ducane Dry Cleaners in London is your local, elite and experienced wedding dress and cultural Asian bridal wear dry cleaning service provider. With over 20 years of wedding dress dry cleaning experience, we provide executive, organic and eco-friendly wedding dress cleaning which includes deep cleaning, tough stains removals, crisp steam ironing and optional boxing services. Whether it is traditional western ivory long wedding dress, red Indian wedding Saree, bright colored Pakistani Bridal Lehenga or African colorful Wedding Skirt and Blouse, Ducane's global and multicultural wedding dress dry cleaning service is one of the leading wedding dress dry cleaning services in London.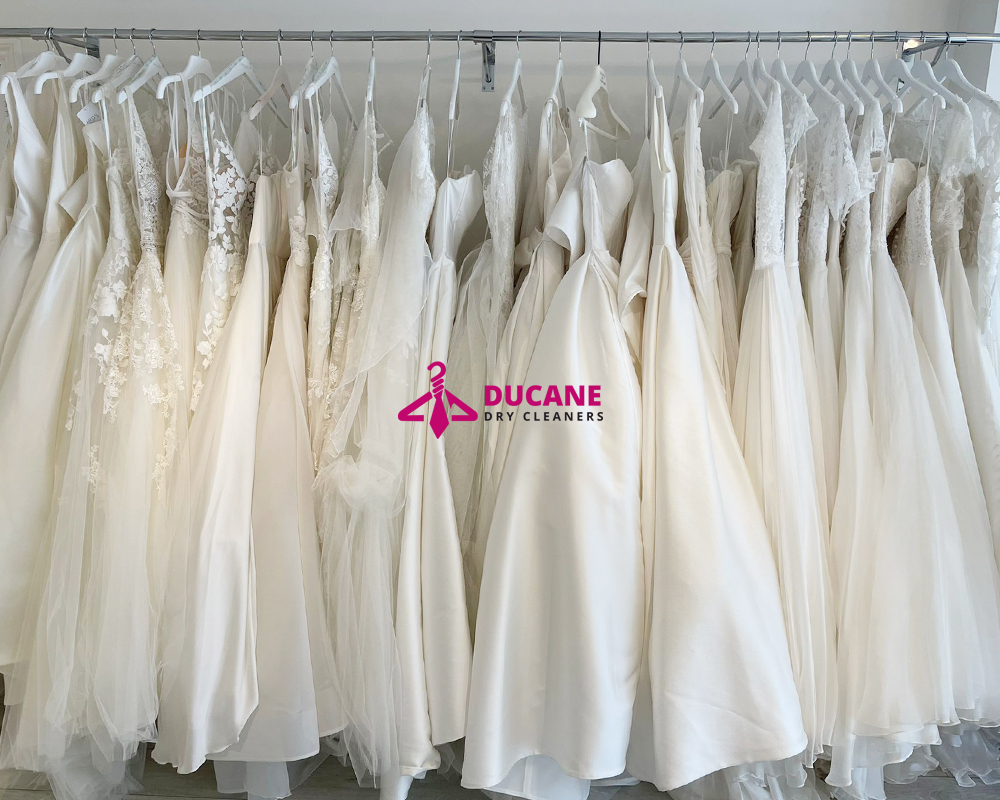 So, if you need your traditional wedding dress cleaned, why not contact us today? We work 7 days a week but if it is difficult for you to bring your wedding dress to us, why not let us collect, clean and deliver your special wedding garments at your own convenience. We also provide urgent services for last minute customers and our flexible payment options gives you the choice to pay via cash, card, invoice or bank transfer. We understand the importance of memories associated with the wedding dress which is why we give detailed extra care and attention every time we clean them. Our ongoing dedication and hard work is reflected through thousands of happy stories and experiences of our customers which is why Ducane's wedding dress dry cleaning is one of the best traditional bridal wear dry cleaning services in London.