Are you looking for local dry cleaners? But not sure, what type of dry cleaners do you need? If you are looking for dry cleaners with quality assurance, the most important factor to check is if they are Eco-friendly Dry Cleaners. Wondering, why do you need Eco-friendly dry cleaners? What is the difference between normal dry cleaners and Eco-friendly dry cleaners? We all know Eco-friendly dry cleaning is better and safer for the environment but how can it benefit you? Regular Dry Cleaners use Perchloroethylene (Perc) and it is a good cleaning solvent with flawless effect on tough stains but it is a known health and environmental hazard.
Perchloroethylene which is also known as tetrachloroethylene is classified as a "likely human carcinogen" – prolonged exposure to it has been linked to an increased risk of cancer. Studies have shown associations between exposure and several types of cancer including bladder cancer and multiple myeloma. In addition, dry cleaners that use Perc are also responsible for harming the environment as this toxin can escape and pollute the air. This chemical if makes to the ground and mixed with soil can prove hazardous and dangerous even to plant life, water system and ecosystem. Due to its toxicity, it is linked to various health conditions and can also cause possible damage to the ozone layer. It is however beginning to be phased out of production while more and more dry cleaners approach organic and Eco-friendly dry cleaning.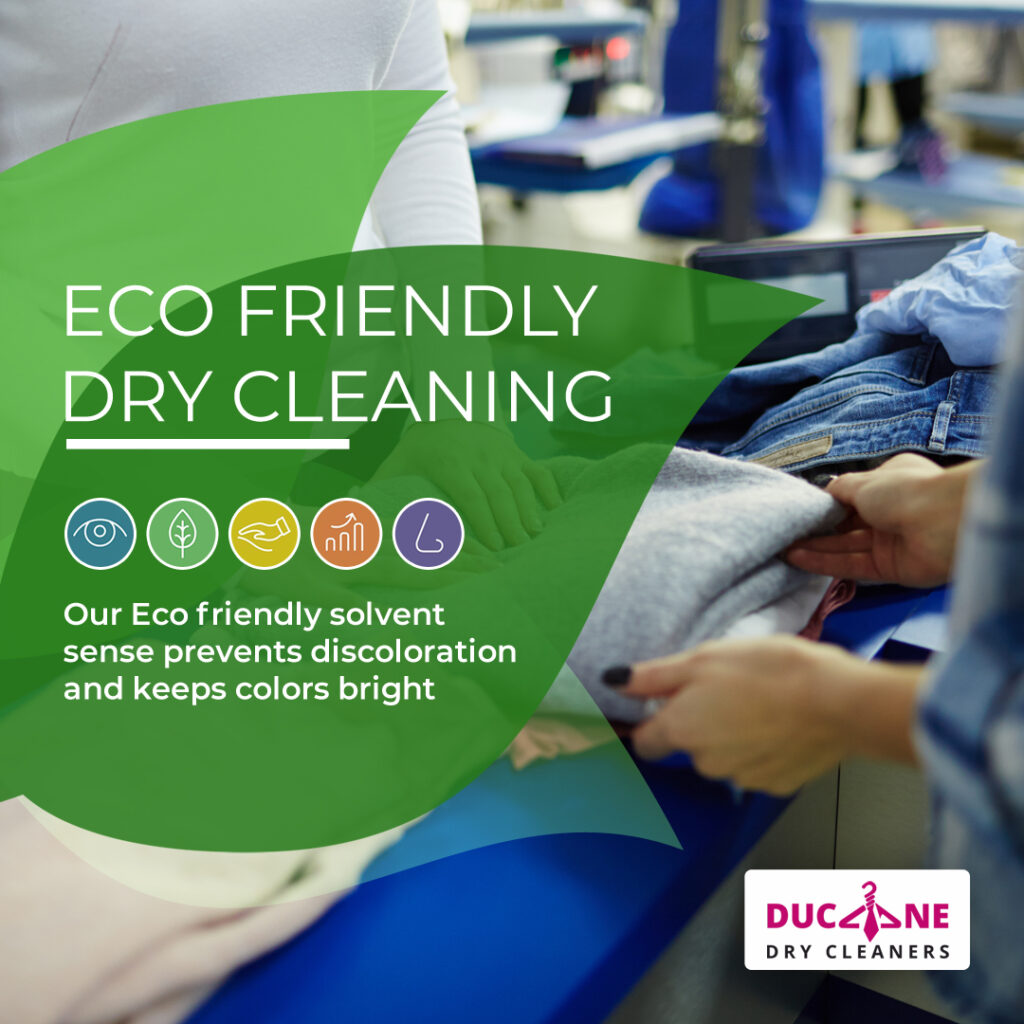 Organic and Eco-friendly dry cleaning these days uses a newly improved liquid solvent SENSENE which is not only as powerful and effective as Perc in removing the tough stains but also prevents discoloring and keeps the bright colors intact. SENSENE is an organic liquid solvent that can easily remove dirt, oil, tough stains from the garments in a much better way than Perc. And, as organic solvents are colorless and odorless, you do not have to worry about the smell of harsh chemicals on your garments. Not to mention, SENSENE is Eco-friendly which means it is not only safer for you but it is safe for our home Earth too.
However, you might be worried about the cost? Eco-friendly dry cleaning is safer and healthier but it is cost-effective too. You will actually find eco-friendly dry cleaners more affordable as governments are trying to eliminate harsh chemicals used for dry cleaning so they tax them more which ultimately results in the increased cost of your dry cleaning. In addition, harsh chemicals used for dry cleaning can damage the garments over time while organic and Eco-friendly dry cleaning is gentle and softer for the garments ensuring their long life and durability.
Ducane Dry Cleaners in London is a professional, experienced and Eco-friendly dry cleaner. We strive to provide our customers with 100% quality assurance with convenience which is why dry cleaning with us is not only safe but is more flexible and convenient with our 7 days Free Collection & Delivery option.
By choosing us as your local dry cleaners, you will be helping in reversing the damage of global warming. So, why not contact us today?