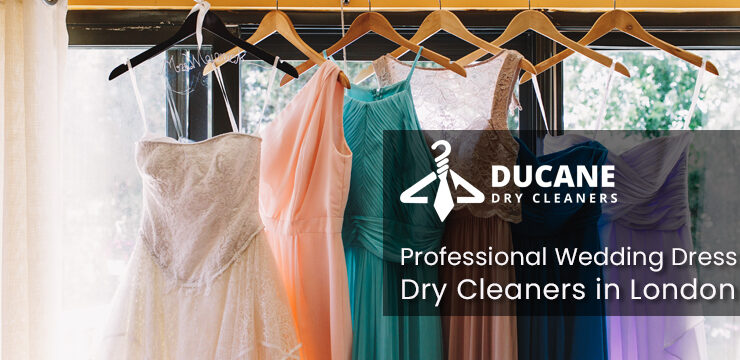 Are you looking for Wedding Dress Cleaning Services in London? Or Do you need Services that involve more than just Cleaning your Wedding Dress? Well, you are on the right page. Ducane Dry Cleaners in London are one of the best and experienced Dry Cleaners when it comes to Wedding Dress Services. Ducane Dry Cleaners not only provides Professional and Elite Cleaning services for Wedding Dresses but also specializes in Tailoring and Stitching, Repair, Boxing, and Preserving Wedding Dresses.
Ducane Dry Cleaning Service in London is your local Dry Cleaners that specialize in providing you with a number of other important services besides just regular Dry Cleaning Services like wedding dress Services, Curtain Services, Carpet Cleaning Service, Rug Cleaning Service, Upholstery Service, Bed Linen Services, Ironing Services, Laundry Services, Professional Tailoring Services, Alterations and Repair Services, Hand Bag Services, Leather and Suede Services, Skiwear Services, Sheepskin Dry Cleaning Services, Corporate Services, Key Cutting Services, Shoe Repair Services and many more.
Not to mention the most delicate Service involved of all the other services we cover are Wedding Dress Services. Whether it be just cleaning or that delicate repair of your Wedding Dress, we all agree that Wedding Dresses need utmost care and attention due to the quality of the fabric involved and due to further delicate designs and embellishments used to make them attractive. Which is why Wedding Dresses need an Experienced, Elite and Professional Company to deal with their cleaning and repair services.
With more than 20 Years of experience, Ducane Wedding Dress Services in London specializes in dealing with all kinds of Wedding Dresses whether it be Vintage or Fresh in Style. With so many years of experience, we have realized that delicate fabric needs delicate services and so we use the best available equipment and materials in the market to look after your delicate Wedding Dress. Our eco-friendly, non-toxic chemicals and solvents specialize in retaining the shine and freshness of your Wedding Dress giving you 100% surety of their quality and reliability.
It does not end here, we at Ducane Dry Cleaners also specialize in professional Tailoring and Stitching Services. So, whether you need to repair, alter or completely design your own Wedding Dress, we will help you fulfill that special dream. And, with FREE Collection and Delivery Services available, we are just a phone call away from you. But, why believe in just words when you can actually see for yourselves through the amazing reviews left by our hundreds of happy clients on Google Reviews.
Ducane Dry Cleaning Services in London is also proud to announce that due to the ever-increasing demand and requests from our happy clients, we have now started professional Rug Cleaning and Carpet Cleaning Services in London at an affordable cost.
So, whether you need our professional Wedding Dress Services, Curtain Services, Rug, and Carpet Cleaning Services, or regular everyday Dry Cleaning Services, there are a number of ways you can reach us besides visiting us personally. Whichever is easy and convenient for you, we are also available through either our website: www.ducanerichmond.co.uk, or by email at info@ducanerichmond.co.uk. Or, you can also contact us by a phone call on 020 8332 1111 or just text us on our 24×7 Business WhatsApp number 07947991870. No matter how you reach us, you will always find the quick and friendly assistance from our trained and professional staff always available at your disposal.