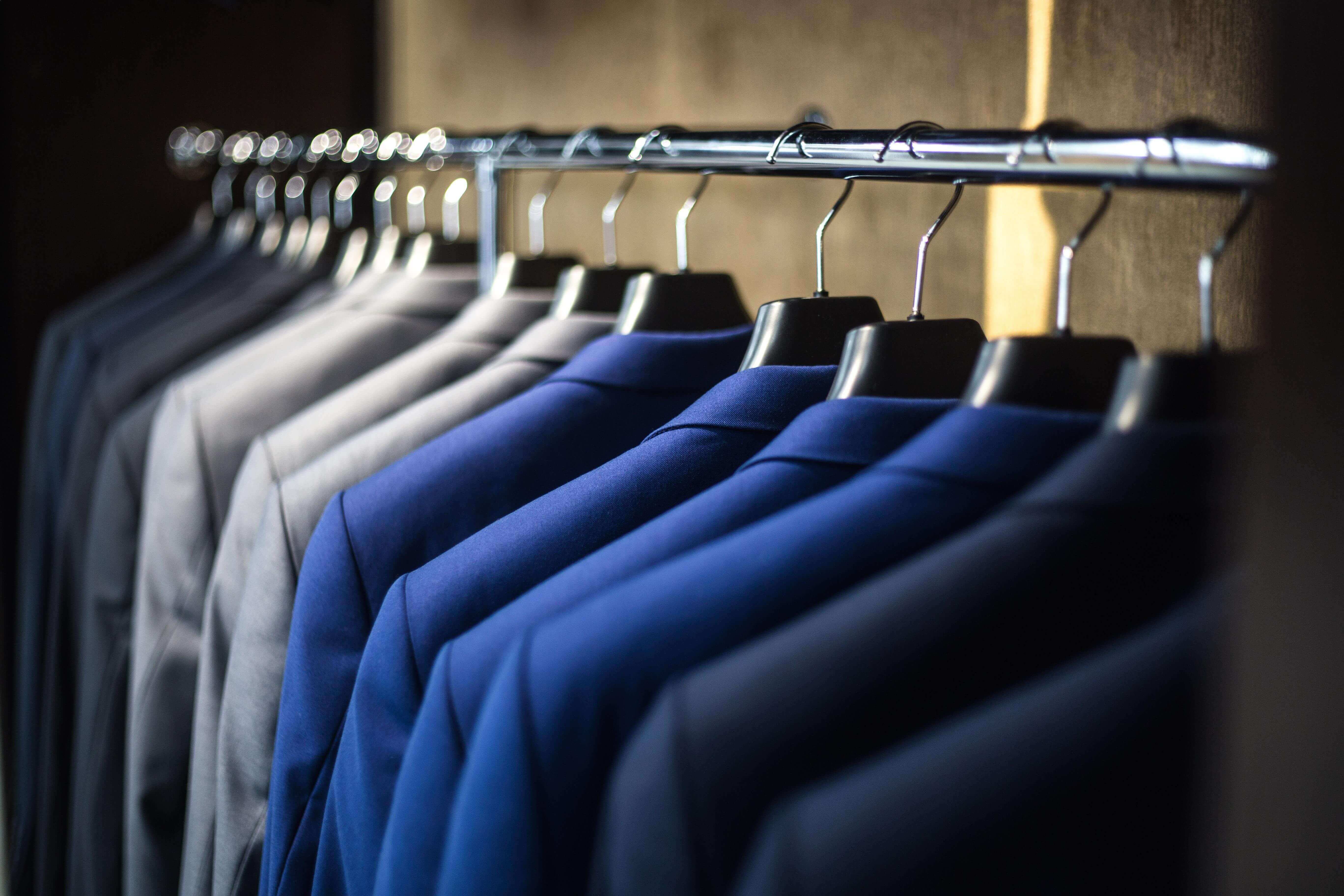 Certain clothes demand that you must use dry cleaning as opposed to conventional home wet washing. Why? Essentially Dry cleaning uses chemicals to thoroughly clean your garments or fabrics.
The chemicals used are specially made to remove stains, dirt, and smells from quality materials. Something you could not achieve with conventional home washing methods. The home washing method can even do damage to certain materials, losing their structure or colour. So it's not worth risking washing more specialist materials at home,. A dry cleaner has the machinery, methods, and experience to treat your material properly.
What Types of Clothes Need Dry Cleaning?
First, read the clothing label. Items with tags that say "dry clean only" should go to a professional dry cleaner.
There are many items that say"dry cleaned only" from clothing for special occasions such as cocktail dresses to specialist clothing meant for particular tasks such as ski wear. Also, home furnishings made of particular materials may need a dry cleaner to safely wash them.
As a general rule of thumb garments made with taffeta, silk, wool, velvet, acetate, and fabric blends that consist of rayon should be professionally dry-cleaned except when the care label says otherwise.
Clothes that are made from animal products are very different and more difficult to clean than those made from plant fiber; that is why wool is a difficult material to clean, leather and suede are even more difficult to care for. Garments made from suede or leather-based also must be dry-cleaned.
There is also a myriad of manufactured, man-made fibers that can consist of a mixture of materials, both artificial and natural. Some of which may be damaged if not dry clean.
So let's take a more in-depth look at what you should be bringing in to be dry clean.
Suits
You should dry clean a suit as soon as it looks worn or dirty or there is a scent present. Suits only worn once in a while must be taken to the cleaners to prevent the cloth fading and wearing out. It will help keep its shape, preserve the fabric, keep it smelling good, and prevent the cloth fading and wearing out.
It is important to take into account the material the suit is made from as some materials hold smells and stains more than others. Woolen suits, for example, need more care than synthetic blends since they absorb odours quickly.
A suit must be dry cleaned at least once every four months to preserve its crisp look. Taking into account the cost of the suit and the cost of dry cleaning it is less expensive to dry clean your suit regularly to protect your suit from damage, than repairing or replacing the suit.
Silk Dresses
Another material that demands the special care that dry cleaning provides is silk. If you own an expensive dress, and the silk content is over 60%, then care should be taken not to destroy the natural silk fiber. Your Dry Cleaners should know the right processes, temperatures, and chemicals to use, in order to remove the stains and odours from your silk item and have it looking feeling, and smelling great without impacting the structure of the silk material itself.
Wedding Dresses
Whether your wedding dress is made up of a mixture of materials such as polyester, nylon, cotton, or lighter silk fabrics such as chiffon, silk georgette, or crepe chiffon, you should have it professionally dry clean. since extra care is needed for wedding dresses with beading, embroidery, fancy buttons, or other types of expensive embellishments. For Wedding dresses that are usually delicately constructed items, the only way to clean them properly without damage is to use a dry cleaning service.
Suede And Leather Items
Suede can easily absorb oils and soil. Whilst lighter stains on other types of leather jackets can be done at home with soap and water. Larger or heavily-oily stains should always be treated by a professional leather dry cleaning experts.
They will instead use a combination of solvent and warmth to ensure that the stains can be lifted out of your garment. This is an appropriate treatment for leather-based and suede since in the process of manufacture these materials were stripped of water-proof areas and as such can sustain serious damage if they come into too much contact with water.
Cleaning Household Items
A professional Dry cleaner does not only care for your clothes but haven't you noticed the number of furniture covers, cushions rugs, and curtains all made of different materials that are in your household?
Let's focus on one of these to see the advantages of using a professional dry cleaning service.
Caring For Your Curtains
Your curtains perform an important function every day in your home or office, In the summer They protect you from heat, keep the heat in through winter, they allow fresh air and breeze to come into rooms at the same time filtering out dirt, dust, and insects. Allowing you to get the best out of your work and living spaces.
So you can see that your curtains are not only pleasant on the eye but are also practical. Whilst quietly performing these tasks curtains suffer from wear and tear, become dirty, can shrink, or stretch. Over time dirty curtains can not only become an eyesore but can also play host to germs and bacteria and that's no good for anybody
Under these conditions, you should have your curtains cleaned and maintained at least twice a year, to remove any dirt dust, or toxins. Doing this will reduce mites and allergens that build up in time, preparing your curtains for the coming seasons.
Why Use A Dry Cleaner To Clean Your Curtains?
It is often important that you use a dry cleaner to perform the task of cleaning curtains for you because your curtains can be made up of a variety of materials be it cotton, wool, silk, velvet, or a mixture of natural or man-made fibers. A professional dry cleaner will be aware of the dangers that may come with these materials such as shrinkage and colorfastness. They will then use the appropriate method of cleaning for your curtain type.
Your clean curtains give a much better impression for anyone passing by, visiting you, or working in your office and also perform their task perfectly.
Extra Curtain Services Provided By Your Dry Cleaner
In addition to properly cleaning your curtains, your dry cleaner will also be able to collect and deliver your curtains saving you time and effort.
They will also offer a repair and alteration service for your curtains. So that if you're set of curtains are damaged in any way, say a ripped lining, then the dry cleaner should be able to replace the lining. Or if they are too big, small, or wide for your desired location, then they will be able to tailor your curtains to the dimensions you want them to be.
In the case that you want a brand new set of curtains then you can ask your dry cleaners' tailor or seamstress to make a brand new set of curtains to your own specifications, with your own material and design.